This is what you can expect when you arrive at Classic Ibiza at Weston Park. You may also want to check out our FAQs and Food & Drink pages for further information.
ARRIVAL AND SECURITY INFORMATION FOR CLASSIC IBIZA WESTON PARK
SATURDAY 16th JULY 2022
We are so looking forward to welcoming you to Weston Park! Further information, including the programme and FAQs, can be found by visiting the Weston Park page of our website, which will be updated throughout this week. Alternatively, send us an email or connect via our social channels and we'll come back to you as soon as we can.
WEATHER AT WESTON PARK
Keep an eye on our Facebook page on Friday evening for the latest weather forecast and ground conditions at Weston.
Currently we have a fabulous weather forecast for Weston.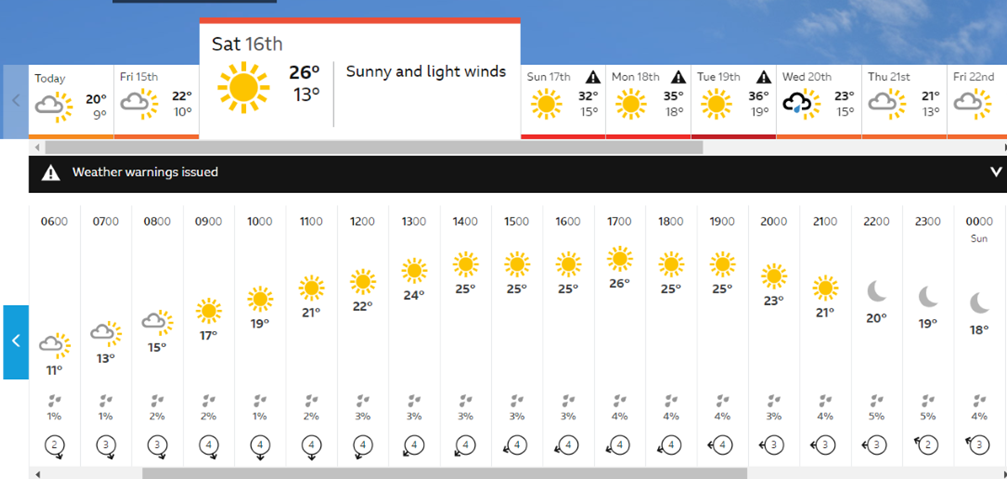 PACKING YOUR PICNICS
Please can we remind you of prohibited items as follows:
Animals (with the exception of assistance dogs).
Professional camera equipment.
Naked flames – flaming torches, barbecues or candles (tea lights in enclosed lanterns are fine)
Fireworks, sparklers or Chinese lanterns.
Drones.
Only plastic knives are permitted on the concert site.
Classic Ibiza has a zero drugs policy and search dogs will be in operation at the ticket checkpoints.
You can bring your own alcohol but there are restrictions of a maximum of the equivalent of a bottle of wine or 4 cans of beer per person. Neat spirits will not be permitted.
You will be issued with a litter bag as you enter the concert site. Please help us to reduce waste by taking your litter home with you and recycling as much as you can.
SECURITY INFORMATION
Your safety is very important to us and we appreciate your cooperation in helping to make the evening not only incredibly enjoyable but also safe. There will be security measures in place on the day:
Our door supervisors will be carrying out bag checks as you enter the concert site which will include pat-downs and metal detection wands. We encourage you to travel as light as possible to avoid delays.
There will be random customer checks.
Specialist search dogs will be in operation throughout the bag search process.
Consider taking advantage of the excellent street food vendors on-site to travel extra-light. You can then use the Fast Track lanes at the ticket gates.
The concert site is strictly out of bounds for any vehicle. Under no circumstances attempt to drive your car onto the concert site before or after the concert.
GETTING TO WESTON PARK
Parking is free for this event and our partners San Miguel are offering a complimentary San Miguel 00 to all designated drivers!
Weston Park is clearly sign posted from all routes. Look out for the yellow signs as you get closer to the event which state "Classic Ibiza".
There are two entrances into the estate:
Gate 1 - The Shrewsbury Drive for taxis, pick up and drop offs – TF11 8PX (what3words ///weedy.trifling.framework)
Gate 2 – The Blymhill Gate for public cars parking and coaches – TF11 8LE (what3words ///irony.exhaled.walked) The below map will help you: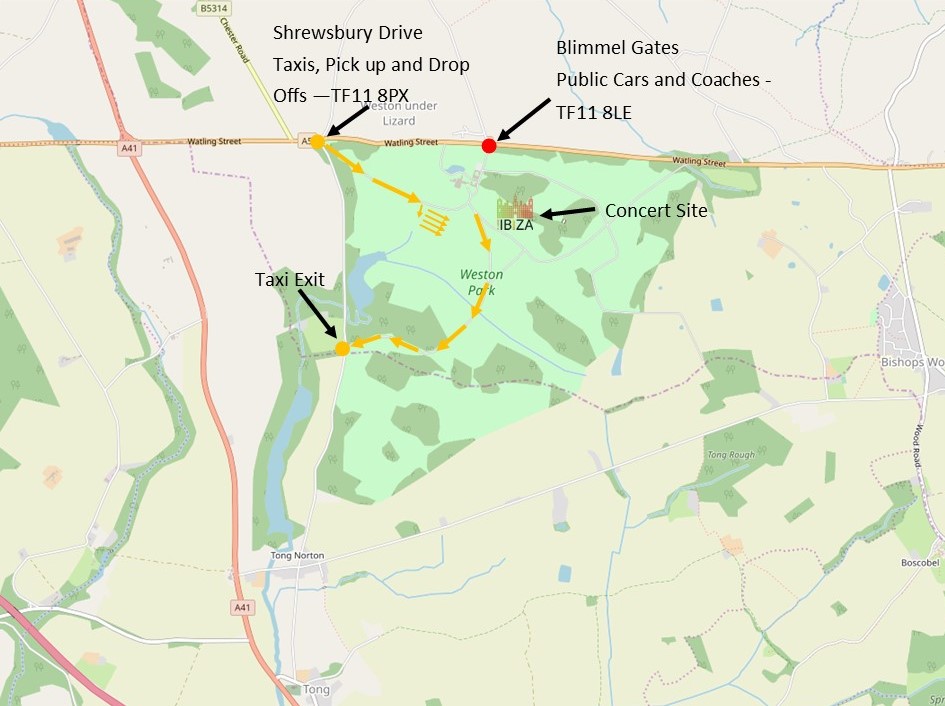 Please take a look at our FAQs here for further information:
If you are coming/going by taxi, please make sure you have booked before you leave home with the following information:
Venue postcode: TF11 8PX (what3words ///irony.exhaled.walked)
Your pick and drop off point will be within the park. Please do not allow your taxi driver to drop you off on the surrounding roads. The A5 is a very fast and dangerous road, and you will be prevented from walking out of the gates. The route will be clearly sign posted.
At the end of the night your taxi will be parked in a numbered row in the same area that they dropped you off. Please speak to your driver at the end of the concert to find out which row the vehicle is parked in – this will help us and you to find your taxi.
Please advise any taxis picking up after the concert to be back on site by 10.35 pm.
AT THE TICKET GATES
Your tickets will be checked on foot once you have either parked your car or been dropped off by your taxi or coach.
Bag check: you are reminded not to bring any prohibitive items and adhere to our alcohol restrictions. There will be a fast-track lane for people without picnics.
Search dogs: anyone attempting to enter the site with illegal substances will be refused entry.
Ticket check: please have your tickets ready as a print-out or on your phone.
TIMINGS
Gates open – 5.30 pm
Chill out DJ Set – 6.30 pm
Sundowner Set – 8 pm
House DJ Set and last entry – 8.30 pm
Dance set – 9.30 pm
Concert finishes – 10.55 pm
THE CONCERT SITE
Our 'social spaces', a grid of clearly defined picnic areas and 'walkways' marked directly on the grass, were a massive hit last summer so we're keeping them. You get your own space to host your party, they make it easier to find your party if you've been dancing, and once it goes dark the site looks incredible.
Select your own space on arrival – each accommodates up to 8 people (larger groups can select adjacent spaces).
Each 'social space' is situated in a colour-coded zone (denoted by flags).
Walkways will be marked with festoon lighting.
THE DOUGIE MAC
Classic Ibiza at Weston Park is proud to be supporting The Dougie Mac. There will be various fundraising initiatives taking place on the evening, including a £2.50 donation (increased from £1 in previous years) from every programme sold, a recommended £5 donation from press and guest-list entries, as well as collection points at all entry and exit gates. Further funds will be raised at the Dougie Mac shop, located behind the sound tent selling a range of fun merchandise.
FACILITIES ON SITE
Please bring cash with you as not all of the retail outlets will be able to take cards on the evening.
Classic Ibiza Shop
Hoodies
Sweatshirts
Ponchos
Blankets
Set list lanyards
Classic Ibiza Bar
Beers
Wines
Spirits
Soft drinks
Cocktails
Catering Village
The Fork Society
That Smoke Truck
Chez Sebastian
La Pitta Catering
Nomad Waffles
Chockshop
Drink Up Coffee